It's on 14th September 2017 that Facebook announced a new site feature called Crisis Response, which will act as a central hub for all of the company's safety-related tools. That primarily includes Safety Check, the feature that lets Facebook users tell friends and family members they're safe during natural disasters, terrorist attacks, and other life-threatening incidents.
The center also contained a mix of public Facebook posts, news articles, photos, and videos to keep people informed and up to date on a given crisis. Other additions include the Community Help tool, first introduced in November of last year, for coordinating help during a disaster and an all-new fundraising feature for supporting affected individuals and groups, as well as non-profits involved with relief efforts.
Now, here are the 7 things that you need to know about Crisis Response on Facebook.
HOWTO FIND CRISIS RESPONSES:
(a) To find Crisis Response on your desktop computer, click Crisis Response on the left side of your homepage.
(b) To find Crisis Response on your Facebook mobile app, click Crisis Response on the Menu bar, at the top left side of your homepage.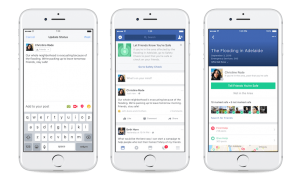 HOWTO FIND SAFETY CHECK:
To find Safety Check, go to Crisis Response and then select the Crisis page for the specific crisis you're looking for. You can mark yourself safe through Safety Check on the top of the page.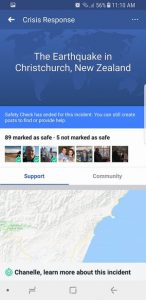 SAFETY CHECKS IN NEWS FEED:
These stories that you see in your News Feed are created by friends marking themselves safe through Safety Check.
Safety Check allows people to quickly share that they're safe during a crisis with friends and family and helps them connect with people they care about.
You can find Safety Check by going to Crisis Response.
HOWTO ACTIVATE SAFETY CHECKS
When an incident such as an earthquake, hurricane, mass shooting or building collapse occurs where people might be in danger, a global crisis reporting agency alerts Facebook.
If a lot of people in the affected area are posting about the incident, Safety Check will be activated and those people in the area may receive a notification from Facebook to mark themselves safe. People who click the Safety Check notification will also be able to see if any of their friends are in the affected area or have marked themselves safe.
HOW TO MARK YOURSELF SAFE:
When you receive a notification from Facebook asking if you're safe, click I'm safe.
To ask if someone else is safe during a disaster:
Go to Crisis Response and select a Crisis page
On the Crisis page, you can see a list of your friends who are Marked Safe and a list of your friends who chose Doesn't Apply. You can also search for a friend by using their name, but keep in mind that you can only ask people you're friends with on Facebook if they're safe
Click Ask if Safe next to the person's name
Once you ask if a friend is safe, they'll receive a notification and be able to mark themselves safe.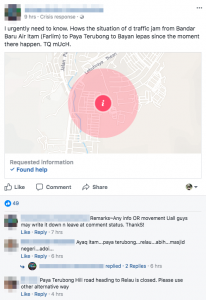 HOW FACEBOOK KNOWS YOU ARE IN AN AFFECTED AREA:
Facebook look at a number of factors to determine if you're in an affected area. These may include:
The city you've listed in your profile
Your current location, if you've given Facebook access to your phone or tablet's location
Other signals that point to your location (example: the city where you use the Internet)
If a lot of people in your area are talking about an incident, you may be invited to mark yourself safe using Safety Check. If you're not in the affected area or you don't want to share, you can click Doesn't Apply To Me.
HOW TO CREATE A FUNDRAISER FOR A NONPROFIT OR A FRIEND AFFECTED BY CRISIS:
You can create fundraisers for nonprofits and personal causes on Facebook within a Crisis page.
To create a fundraiser for a nonprofit or a friend:
On the Crisis page, scroll down to the Fundraisers section on the right side of your screen and click Raise Money and then Get Started
Select Nonprofit or Friend on Facebook
Select or search for the friend or nonprofit of your choice
Fill in the information for who or what you want to raise money for
Click Create
Please keep in mind that the money raised for nonprofits will be used at the organization's discretion.
Note: This feature is currently only available in the United States and you must be 18 years or older to create a personal fundraiser.